Solo Exhibition, Art-2 Gallery, 2002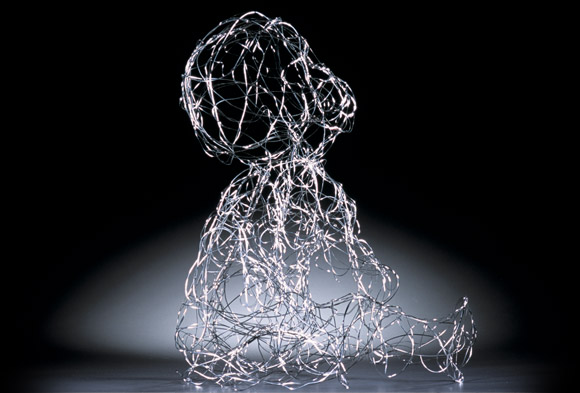 I encounter thirty-six tiny babies in the incubation site that is Victor Tan's studio. Their movements are curious and playful, soft and natural. That they are made of wire is perhaps even more curious, and I cannot decide whether to examine the sculptor's motive behind these dedicated pieces, or to just pick them up and examine them for myself.
"There is wisdom in these movements, there is no need to teach babies how to move, but their movements mature day by day. I have been working on my niece Jeauree since she was six to ten months old, and I have continued capturing her movements and growth. She's now one year and four months, now she walks," Tan comments with enthusiasm.
The majority of Victor Tan's sculpture has been centered on the human figure, but he has in the past generally used the adult form, generally without gender, to examine and to release a variety of emotions and wonderings. The earliest pieces were classical in approach, portraying various 'grand' emotions in an evocation of human postures that recall Greek tragic heroes and antiheroes. These were Tan's primary renderings, searching for a language and a voice to work through his own anxieties, heartbreaks and traumas. And indeed one would recognize the human pathos and also trauma in those first figures, woven with fingers trying to communicate in a language that was beyond what Tan would communicate verbally.
Now five years into his practice as a professional sculptor Tan has achieved several milestones for himself. The small sketches had been enlarged successfully into larger-than-life works, the first of this, not surprisingly, being a series on human communication and connection titled "Okay", (1998). Here Tan had experimented with various poses to make a dramatic pageant where five human figures represent the fingers of a hand making the 'OK' sign. This work has its strength not in the story that Tan has enacted, but in the construction of a strong visual piece with playful connotations. The positive energy of the work is reinforced by deft sculpturing. I believe its success is due to the emotional factors of the work being in correlation with Tan's own personal breakthrough.
The next major piece "Between", (1999), was a series of entrances; the human figure, again larger-than-life-size, crossing through a frame into a new space. The crossing over concept could be seen again as a personal milestone, Tan gaining new confidence as an artist, and the new beginnings that were happening in both his art and his life were uplifting breakthroughs. The effect of Tan working in series meant that he could follow a suite of movements to make different statements with each work. This Tan developed with "Dawn to Dusk", (2000), where visual element, form and content united to make all five pieces into one inseparable composition. Apart from the "Born" baby sculptures from 1999, this was one work where Tan had begun to use the infant form.
The first babies were made in London where Tan was working out his prize, the Commonwealth Art Award which allowed him his choice to understudy the sculptor Bryan Ellery. In London, where Tan met many people who were single parents, he was impressed by his encounters with their infants, and the experience of holding a child in his arms was emotional and lasting.
Inspired, he managed to find an extremely life-like toy to work from, resulting in the exhibition "Born", (2000), where Tan featured a series of almost life-size new-borns in various positions. But the real study began over a year later with Jeau Ree, whom Tan found totally irresistible. To Tan, holding the child was something he described as being the most natural of feelings and experiences. This was a pure experience of a person, an unconditional trusting and loving relationship that was new to the artist.
Another concurrent development in Tan's life was his becoming more aware and conscious of the subtlety of movements in his surroundings and in the people near him. He would 'meditate' on the infant's movements, trying to be conscious of every flex of her little body. Thus the serialisation of movements in this exhibition "Dawn", where Tan traces the series of movements, postures and emotions of the child over more than thirty small sculptures.
This is what I have been confronted with when I enter the studio, and the first thoughts that enter my mind are the words "endearing" and "delightful". If Tan was seeking to portray innocence, he has succeeded with these fragile-looking small sculptures. But he has achieved more than that — their limbs speak of endeavour, learning, balance, reaching out.
In the previous series "Awareness of Being", (2001) exhibited in "Between Two and Three", (2001), Tan used the adult human form to trace the gentle rising and dropping movements of a person. Made with a very light and loose weave of wire, the work has a performative dimension, whilst being set up as an artistic installation. This meditative work with its surreal beauty is also necessarily impersonal and has a transient air. It also established Tan as an artist working within a contemporary vehicle and being able to use the space and environment given him to assemble his work fluently.
The babies, however, have character, and there is little intellectualizing about these sculptures. The documentation is relentless and there is perfection as well as awkwardness in their movements, trying, stumbling, getting up, flaying out, lying peacefully; all totally without self-consciousness. I can almost feel the intensity of Tan's pursuit to document the child as she made her first movements. "Every moment is a beginning," says Tan of the child, and so too for the sculptures.
"This is just the beginning of the series – my idea of the child and the reflection of myself as an adult. All of us are in process of being formed, changed. Yet there is a sense of the child within, looking out. That is my experience, like being in a pipe, we are moving from darkness to light. It is the moment of waking up. Art allows me to note this precious life I have now. I hear about children carrying arms and fighting in wars – that is so weird because children don't have territory. Can't we have a different situation by caring for each other? If only one could go back to that stage of the child; loving the child and loving the inner child. If I could do my work to make people who are fighting now change their minds, to touch them and get them connected, I would like to."
Seah Tzi-Yan, Curator, August 2002
Publications
2002 Arts Magazine- (PDF – 1.4MB)
2002 Lianhezaobao (PDF – 165kb)